Elementary Science Program

The elementary science program has been designed to provide all students with an exciting "hands on" and "minds on" experience which emphasizes higher-level thinking skills. Classroom activities involve students in the process of using an inquiry and problem-solving approach to science. An emphasis on experimentation, observation, and analysis sharpens students' critical-thinking and problem-solving skills.

The Full Option Science System (FOSS), a balanced approach to physical, earth, life and technology science. The FOSS program offers students challenging opportunities to practice science and build confidence in both individual and cooperative abilities. Modules for each grade level are listed in table below.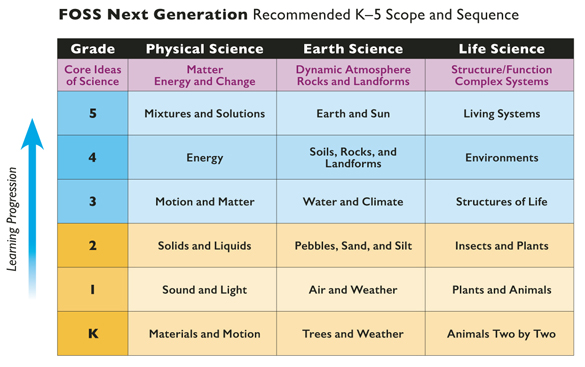 FOSS Modules by Trimester

| | | | |
| --- | --- | --- | --- |
| | Trimester 1 | Trimester 2 | Trimester 3 |
| Kindergarten | Trees & Weather | Materials & Motion | Animals Two by Two |
| First | Plants & Animals | Sound & Light | Air & Weather |
| Second | Solids & Liquids | Pebbles, Sand, and Silt | Insects & Plants |
| Third | Structures of Life | Motion & Matter | Water & Climate |
| Fourth | Soils, Rocks & Landforms | Energy | Environments |
| Fifth | Earth and Sun | Mixtures & Solutions | Living Systems |